Many of you might have heard about the company– Telerik. Telerik is a leading vendor of Development, Team Productivity, Automated testing tools. as well as UI components and Content Management Solutions for Microsoft .Net technology. On Jan 23 i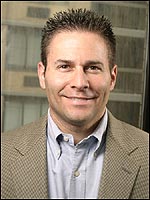 had the opportunity to meet up with Mr Stephen Forte – the Chief Strategy Officer for Telerik. He is currently on a week long tour to India. He was one of the speakers for the "Bangalore Community TechEd 2011" which was supposed to be held on Jan 22/23 but had to be cancelled because of the city wide bandh in Bangalore.
We met over a cup of chai, in fact masala chai at ITC Gardenia hotel where he was put up. It was a very fruitful 1 hour for me as the chat were of various topics. We started with his current trip to India, to his public speaking, to his community initiatives in NY and to his company.
What's interesting is the fact that he has seen more places in India than me being in India. That was very impressive of him and he told me that he makes sure that he visits a new place in his every trip to India. Also he had his first experience of driving a "Tuk Tuk" the Indian auto which we popularly call as Auto rickshaw for 200 INR. (P.S. he doesn't hold a valid licence
). Here is a video of the same – http://www.twitvid.com/ZVUOM. Also it seems he is a very good friend of Scot Hanselman who i am a big fan of.
When i first came to know that i have a chance to meet up Stephen, i fancied myself for my first ever international personality interview. But i didn't tell Stephen of this before hand. I took a FlipVideo – an alternative to a video
cam. FlipVideo will allow you to record a full 1 hour worth of video. I hadn't used it in a while. It allows you to charge it via USB as well as use AA batteries. I put new ones. But the batteries wont long for full one hour. I had 5 questions for Stephen and on the 5 question i ran out of the batteries. Luckily i had my HTC desire as a back up. So when you watch the video at 9 minutes and 16 seconds there is a switch in the visuals and audio.
Stephen Forte, CSO Telerik–Uncut and Unedited
I must say this is the first time i have ever interviewed anybody and it felt very good. And Stephen is a very good orator. I say this because when you see the video you may think this was scripted but no – i just told him i want to ask him 5 questions and here are the questions. Those 1o minutes Stephen spoke was all spontaneous. Thanks to Stephen for his time and the interview. Hoping to meet up with him again during Great Indian Developer Summit in April 2011 in Bangalore.
Listen and let me know how i did with this new stint. Hope to do more of these in coming days.
As always, Happy coding. Code with passion, Decode with patience.